This is a gluten-free version of my favorite Chocolate-dipped Coconut Macaroons that I make every December.  I used coconut flour instead of All Purpose.  The result is a slightly lighter, less crispy cookie, but still so delicious you will wish you had doubled the recipe.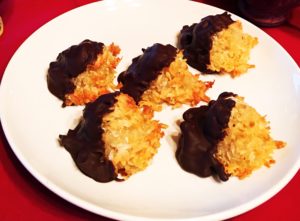 Note:  Since the coconut mixture needs to cool before baking, it is best to prepare the coconut a few hours before you need to bake them!
Ingredients
10

Lg egg whites

2 1/3

c

Granulated sugar

1 1/2

tsp.

Salt

1

tbsp.

Natural Vanilla extract

1

14-oz. bag shredded coconut, sweetened (5 1/3 cups)

4

tbsp.

(1/4 cup) Coconut Flour

12

oz

Fine-quality Bittersweet Chocolate, chopped
Instructions
In a heavy saucepan, mix together egg whites, sugar, salt, vanilla extract, coconut, sift in coconut flour. Stir the mixture until ingredients are well-combined. Cook over medium heat for 5 minutes, stirring constantly. Increase the heat to medium-high, stirrring constantly an additional 3-5 minutes, until the mixture has thickened and is pulling away from the sides and bottom of the pan. Transfer the mixture to a bowl and let it cool slightly. Cover the surface with plastic wrap and place in the refrigerator until it is just cold. (This could take a couple of hours!) Preheat oven to 300F.
Using a small scoop (1 TBS size), or a tablespoon, scoop cookie dough in mounds 2 inches apart on a butter- or parchment-lined baking sheet. Place sheets in preheated oven and bake until macaroons are pale golden brown. In my oven this took 32-33 minutes. Transfer cookies to cooling rack until completely cool.
In a metal bowl over a pan of simmering water, melt the chopped chocolate, stirring until it is smooth. Remove the bowl from the heat. Dip the macaroons into the chocolate until they are covered halfway. Let any excess chocolate drip off. Transfer dipped macaroons to a foil- or parchment-lined tray. Chill 45-60 minutes until chocolate is set. Store in airtight containers in the refrigerator between layers of plastic wrap or wax paper, allowing them to stand at room temperature 20 minutes prior to serving. They will keep several days in the refrigerator or several weeks in the freezer.