This Cajun Jambalaya with Andouille Sausage and Chicken is adapted from and inspired by the recipes of Jon Besh, a chef dedicated to preserving culinary traditions of Louisiana.  If you Google his name, or see him on TV, he almost always recommends a Jambalaya recipe, and, like all great chefs, he has many variations.  We just took pieces and ingredients from a few different recipes and made it our own.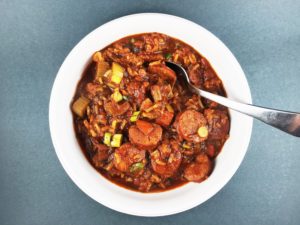 Ingredients
1/2

lb

Bacon (we used Peppered Bacon), diced

1

lb

Andouille Sausage, diced

3

tbsp.

Cooking Oil - Vegetable or Canola oil or Lard preferred

1 1/2

lb

Boneless, skinless chicken thighs, cut into 1" cubes

1

Large yellow onion, diced

1

Green Bell Pepper, seeded and diced

1

Red or Orange Bell Pepper, seeded and diced

3

Celery stalks, diced

3

Cloves garlic, minced

2

c

White rice (you can substitute brown, but will need to add more liquid and longer cooking time)

1

tsp.

Dried Thyme

2

Bay leaves

1 1/2

tsp.

Smoked Paprika

1/2

tsp.

Cayenne Pepper, more as desired

1

tbsp.

Celery Salt

1

28 oz. can Crushed Tomatoes

1

8 oz. can Tomato Sauce

1

qt

Chicken Stock

1

Bunch of Green Onions, chopped
Instructions
Heat a large Dutch oven or heavy pot until it is hot. Reduce heat to medium. Pour oil or lard into hot pan, along with the chopped bacon and andouille. Stir slowly to render fat from the meats. While fat is rendering, season chicken thighs with salt and pepper, then add to the pot, continuing to stir until chicken is browned, about 5 minutes.
Add onion to the pot. Cook 15 minutes until they begin to caramelize. The add the bell peppers, celery, and garlic, continuing to cook for another 5 minutes. Continue to stir occasionally so everything cooks evenly.
Add the thyme, bay leaves, smoked paprika, celery salt, 1 tsp salt and 1/2 tsp pepper and rice to the pot. Stir often for 3 minutes.
Increase heat to high. Add the tomatoes, tomato sauce and 2 c chicken stock to the pot. Bring to boil, then reduce, cover and simmer for 15 minutes. Check the pot halfway through the cooking time to see if rice is cooking. Especially if you are using brown rice, you may need an additional 2 c stock. It's ok to add as you see fit, as you can always simmer until excess evaporates if necessary.
When the rice is just about cooked, (20 minutes for white rice, 40 for brown rice), remove the lid and add the green onions. If there is a lot of excess liquid, increase the heat a bit, cook until excess liquid is gone. Then turn off the heat, re-cover the pot, and let everything continue to cook in the pot for 10 minutes. Add extra stock if necessary to achieve desired consistency. Serve.