I adapted this recipe from one I found in The Seattle Times last Sunday.  It was easy to make, with just a few basic ingredients, and infinite choices to make it your own.  I roasted my squash with a sprinkling of fresh sage, which was so warming and delicious, but I could see adding ginger, or cumin or even cinnamon to make it your own.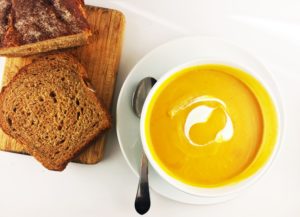 Special equipment desired:  an immersion blender is the very best and easiest way to make this soup silky smooth.  A blender will suffice but is not as easy.  You will need to be very careful with hot soup in a blender – I know this from experience. Cool the soup slightly, fill the blender cup only half full and hold the lid on, covered with a towel, tightly. You will need to do it in batches.
Ingredients
2

Small butternut squashes (or 1 large), about 5 lb

1

Large yellow onion, chopped

2

tbsp.

Butter

4

c

Chicken or vegetable stock

1/2

c

Heavy whipping cream

Olive oil, salt and pepper
Instructions
Preheat oven to 400F.
Carefully cut the squash in half lengthwise, removing the seeds and the stringy stuff. Place the squash halves on a large baking pan, drizzle with olive oil, a liberal amount of salt and pepper, and any other herbs or spices, if desired. Pour about half an inch of water in the pan and place in oven. Roast for 45-60 minutes. Flesh should be soft. Let cool 20 minutes.
While squash cools, saute onion in melted butter in a large pot. Sprinkle with salt and pepper. Cook until soft. When squash is cool, scoop out the softened flesh and add it to the pot. Discard squash skins.
Pour enough stock to cover the squash and onions, bring to a boil. Reduce heat and simmer, stirring occasionally, about 15 minutes.
Blend with immersion blender (or in batches using a freestanding blender), until smooth. Add additional stock if necessary to result in desired thickness. Stir in cream and season to taste with salt and pepper. Garnish as desired.