You could use any leftover bread for this oh-so-easy dessert, or a whole brioche or challah.  I usually throw bread that is on the verge of becoming stale in a zippered bag in the freezer.  I had about 5 leftover brioche buns which I used for this Bread Pudding.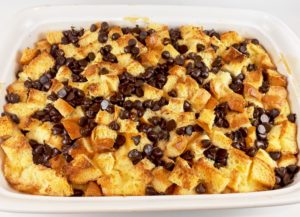 This recipe was inspired by and adapted from NY Times' Simple Bread Pudding.
Top the bread pudding with Easy Butterscotch Sauce, cream or whipped cream.
Prep Time: 15m
Cook Time: 40m
Total Time: 55m
Ingredients
10

c

3/4" bread cubes (leftover or loaf of Brioche, Challah or any other bread)

4

c

Milk (whole milk is best)

4

tbsp.

(1/2 stick) Butter

1

tbsp.

Natural Vanilla

2/3

c

Granulated Sugar

1/2

tsp.

Salt

6

Large eggs, slightly beaten

1

c

(Or more!) Chocolate Chips (Optional)
Instructions
Preheat oven to 350F. (I baked at 340F in my convection oven) In a 3-qt. Saucepan, gently heat milk, butter, sugar, vanilla and salt until it simmers (steaming and small bubbles around edges of pan. While heating, butter the bottom and sides of 13x9 casserole dish, and pour bread cubes into the dish. Sprinkle chocolate chips over bread cubes if you are using them.
Let the milk mixture cool slightly. In a medium bowl, whisk the eggs. Slowly drizzle a small amount (1/4 c) of milk into the eggs while continuing to whisk. This should temper them, so you will be able to add the cooled milk mixture to the eggs without cooking the eggs.
Pour combined milk-egg mixture over the bread cubes. Bake in preheated oven 35-45 minutes, until golden on top and still spongy in the middle. Serve warm or at room temperature. Top with cream or Easy Butterscotch Sauce.