We found this recipe at Epicurious.com.  It was truly the best Shepherd's Pie I have ever had!  However, while not difficult, it does take significant time and use a lot of dishes.  However, totally worth it.  The best thing to do is prepare whatever parts you can ahead of time.  Even assemble the day before if possible. Just store it in the refrigerator, removing 1-2 hours prior to baking.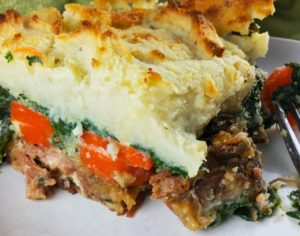 The original recipe called for lamb shanks, for which we substituted Beef Short Ribs.  Amazing!
Prep Time: 1h
Cook Time: 5h 30m
Ingredients
5

lb

Beef Short Ribs

2

tbsp.

EVOO

2

Small onions, trimmed and quartered (leave unpeeled)

1

Handful fresh thyme sprigs

1

Handful fresh rosemary sprigs

1 1/4

c

Beef Broth (low sodium recommended)

1/2

c

Dry white wine

1 1/4

c

H2O

3

lb

Russet Potatoes (about 6 medium)

1 1/2

Salt (Or, or to taste)

3/4

c

Whole milk (we used 2%)

5

Medium Carrots, cut into 1/4" sliced

1/4

c

Flour

2

tbsp.

Unsalted Butter
For Creamed Spinach:
1 1/2

lb

Baby Spinach

1/2

Medium Onion, diced

2

tbsp.

Unsalted Butter

2

tbsp.

AP Flour

1 1/8

c

(1 cup plus 2 TBSP) milk, warmed

2

tbsp.

Grated Parmeggiano Reggiano Cheese

1/2

tsp.

Salt

1

Pinch, freshly grated nutmeg
Instructions
Preheat oven to 450F.
Prepare the Short Ribs: In a large metal or cast-iron roasting pan, place the ribs. Rub with olive oil and salt/pepper generously. Arrange onion wedges around ribs. Roast in middle of oven 40 minutes. Turn ribs over, scatter herb sprigs, and roast 40 minutes more.
Pour wine, broth and water into roasting pan. Cover with lid or tightly with foil. Braise 45-60 minutes, until meat practically falls off the bones. Transfer meat to plate. Remove onion skins. Pour cooking liquid, with onions into a large glass measure. Save roasting pan for preparing gravy.
Potatoes and Carrots: (make-ahead if desired)
Prepare potatoes and carrots. (Ahead of time or while ribs are in the oven) Pierce potatoes with fork. Bake 45-50 minutes until cooked through. Cool 10 minutes, slice in half and scoop flesh from skins. Force through a ricer (preferred) then add milk, salt and pepper to taste. Alternatively, mash with milk, salt and pepper. Set aside. Can be made a day ahead. Cover and refrigerate, removing from refrigerator 1 hour prior to assembly.
Cook carrots in boiling salted water until tender, about 10 minutes. Rinse under cold running water to stop cooking. Drain. Set aside.
Creamed Spinach:
Make the creamed spinach. Cook the baby spinach in 1-2 inches boiling salted water, stirring as necessary. Drain in a colander and rinse in cold water until cool. Using your hands, squeeze handfuls of spinach until you have removed as much water as possible. Coarsely chop. Set aside.
In a small heavy saucepan, over medium-low heat, melt the butter and add chopped onion. Cook until onion is tender, about 4 minutes. Whisk in the 2 Tbsp flour, continuing to cook 2 minutes. Slowly add milk, whisking or stirring until mixture is thick, 3-4 minutes. Add salt, pepper, Parmesan and nutmeg. Stir in the spinach, stir until evenly distributed and set aside. (Can be made 1 day ahead - cover and refigerate, removing 1 hour prior to assembly.)
Gravy:
Make gravy. Skim fat from cooking liquid. (Should have 2 1/2 cups. If not, supplement with extra broth.) Whisk together 1 c broth and flour in a large bowl to make a thin paste. Then whisk in remaining broth, including onions. Pour back into roasting pan over medium heat, and whisk until thickened, about 5 minutes. Season to taste with salt and pepper. Cut meat from bones into bite-size pieces. Stir into the gravy.
Assembly and Baking:
Lower oven heat to 350F. Layer the shepherd's pie. Spoon rib meat with gravy into a 13x9x3 baking dish, or large gratin dish. Place or scatter carrots over the lamb. Top carrots with creamed spinach, spreading evenly. Top spinach with mashed potatoes, spreading evenly and to the edges of the dish to cover filling completely. Make swirl patterns or create ridges on top of potatoes, then drizzle with the 2 Tbsp melted butter.
Place baking dish atop large, shallow baking pan (line with foil to catch drips). Bake until top is golden and you can see filling bubbling up around the edges, about 1 hour. Rest 10-15 minutes, then serve.