Special equipment needed:  9×5 loaf pan
You can find the recipe for Blueberry-Chia Seed Jam here
Cake can be prepared up to several days in advance.  Keep in freezer until ready to serve, if you would like it frozen.  I personally like it at refrigerated temperature and would soften it in the fridge for a couple of hours before serving.  Cut slices with a sharp knife.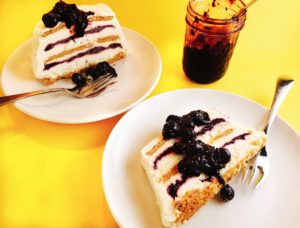 Ingredients
8

oz

Mascarpone Cheese, at room temperature

3/4

c

Confectioners' sugar

2

tbsp.

Grated Lemon zest

2 1/2

c

Heavy Whipping Cream, chilled

1

c

Lemon Curd, divided

16

Graham Crackers (8 sheets)

1 1/2

c

Blueberry-Chia Seed Jam (or store bought blueberry jam or preserves, stirred and at room temperature)

1/3

c

Fresh blueberries
Instructions
In a large bowl, using stand mixer or hand-held mixer at medium-high speed, mix together the mascarpone cheese, confectioners' sugar and lemon zest until fluffy. This will take about 4 minutes in a stand mixer, likely 6 minutes with the hand-held mixer. Once mixture is fluffy, reduce speed to low and gradually add the cream in small increments. As the mixture thickens, increase the speed. Once all cream in included, beat until medium peaks form.
Place 2/3 of the mixture into a separate bowl. Gently fold in 1/2 cup of the lemon curd. Cover the remaining 1/3 of cream mixture and refrigerate to frost the unfolded cake later.
Line the loaf pan with plastic wrap that overhangs each of the 4 sides. Place a layer of graham cracker pieces in the bottom of the pan, breaking them as necessary to cover as much as possible in a single layer. Using a knife or handle edge of a spatula, draw lines to separate cream-lemon curd mixture into quarters. Then evenly spread one of the quarters of lemon cream over the graham crackers. Use a knife or offset spatula to smooth the top of this layer. Then dollop 1/2 cup of jam over and spread over lemon cream. Drizzle 1/4 cup of lemon curd over. Spread. Top with a second quarter of the lemon cream, then top with another layer of graham crackers.
Repeat the layering process as follows: another "quarter" of the lemon cream, 1/2 cup jam, 1/4 cup lemon curd, final "quarter" of the lemon cream. Then top with remaining graham crackers to form an even layer.
Cover cake with the plastic wrap. Freeze for 6 hours or more. Using the overhang of plastic, unfold the frozen cake. Frost the entire cake with the remaining third of the mascarpone-cream mixture. (If it runs or seems thin, whisk the mixture until soft peaks form.) Chill in freezer 10-15 minutes. Cut into slices. Mix remaining blueberries with the remaining jam (about 1/2-3/4 cup). Spoon over slices and serve.