Source:  Bon Appetit, July 2016
Jam can be made well ahead of time and refrigerated up to 2 weeks or frozen for up to 2 months.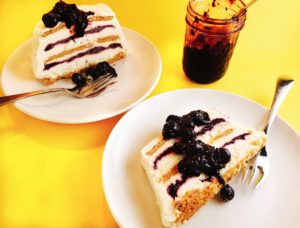 Ingredients
3

c

Blueberries (fresh, or frozen and thawed)

2

tsp.

Finely Grated lemon zest

1/4

c

Fresh lemon juice

3

tbsp.

Natural maple syrup

1/4

c

Chia seeds
Instructions
In a medium saucepan, mix all ingredients except chia seeds. Over medium heat, cook until blueberries are just beginning to burst, about 5 minutes. Use the back of a spoon to gently mash about half of the berries to release more juices. Increase heat to medium-high, bring to boil. Stirring occasionally, cook until mixture is reduced by about half, 5-10 minutes.
Remove from heat. At this point, taste (careful! It is VERY hot!), and add more maple syrup if you would like it to be sweeter. Return the heat to medium high. When it boils, add the chia seeds. Cook for 1 minute. Let cook slightly. Transfer to jars. Cover and cool completely. Refrigerate (or freeze) until ready to use.