This recipe is adapted from the April, 2016 issue of Bon Appetit.
Biscuits can be made ahead of time and frozen on the baking sheet.  Place frozen biscuits in a zipper-top bag.  Bake from frozen and add several minutes to baking time.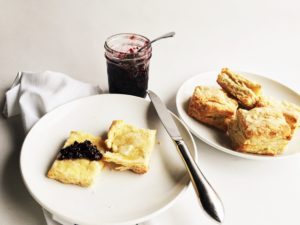 Prep Time: 20m
Cook Time: 25m
Total Time: 45m
Ingredients
3 1/2

c

AP flour

2 1/2

tbsp.

Baking powder

1/4

tsp.

Baking soda

2

tsp.

Salt

2

tsp.

Sugar

1

c

(2 sticks) cold butter, unsalted, cut into 1/2" squares

1

c

Cold buttermilk

2

tbsp.

Butter, melted, for brushing biscuit tops
Instructions
Preheat oven to 425F.
In a large bowl, whisk together all dry ingredients. Add the cold chunks of butter. Using a pastry cutter (or 2 knives), cut butter in until the largest chunks are about the size of a pea. Gradually pour in the buttermilk, stirring with a fork. The dough will seem extremely dry.
Pour dough out onto a large surface (I use a wooden board). Knead it together a couple of times, then pat into a square that is 1" high. It will still seem quite dry. It is ok to scrape any pieces that fall out into the pile.
Using a bench scraper of a sharp knife, cut square into quarters. Stack the quarters, one on top the other, then pat or roll with a rolling pin into a rectangle that is 1" high. Cut the rectangle into 12 square biscuits, a grid 4 across and 3 down. Place the biscuits on a large baking sheet covered with a sheet of parchment paper, 2" apart. Place pan in freezer for 10 minutes.
Remove baking pan from freezer. Brush biscuit tops with melted butter. Put biscuits in oven, and turn heat down to 400F. Bake until dark golden brown on top, about 20-25 minutes.