This is the best banana bread I have ever tried.  I found it in Cook's Illustrated.  It is available at This Link, which will also tell you how they engineered this recipe.  The key to this recipe is to extract the liquid from the bananas (this is NOT DIFFICULT – it happens automatically when they freeze), and then reduce it and add it to the batter.  I always peel and freeze my overripe bananas in a zippered bag.  When I have 5, I know I can make the most delicious treat!  You can use unfrozen overripe bananas if you microwave them (covered) for 5 minutes to release the juices.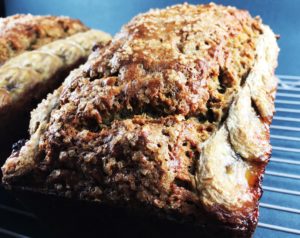 Ingredients
5

Large, extra-ripe (black-skinned) bananas, peeled, frozen, and thawed

1

Banana, not overripe

1 3/4

c

AP flour

1

tsp.

Baking soda

1/2

tsp.

Salt

8

tbsp.

Unsalted butter (1 stick), melted and cooled

2

Large eggs

3/4

c

Light brown sugar, packed

1

tsp.

Natural Vanilla extract

1/2

c

Toasted pecans (I like salted!) or walnuts, chopped

2

tsp.

Granulated or turbinado sugar
Instructions
Preheat oven to 350F. Spray or butter a loaf pan (8 1/2 x 4 1/2 or 9x5) Over a medium saucepan, place a mesh strainer. Pour the thawed bananas into the strainer, letting the juice run into the saucepan. Let bananas exude their juice for a good 15 minutes, stirring occasionally to let the juice drain into the pan.
Remove bananas to a medium bowl. There should be 2/3-3/4 c juice in the pan. Heat the banana juice on medium-high to reduce to 1/4 cup. This takes about 5 min. When reduced, pour the 1/4 c liquid into the bananas, which should be quite soft, and either mash, or mix with a spoon until nearly smooth.
Into the banana mash, whisk in the melted butter, eggs, brown sugar and vanilla extract. In a separate bowl, whisk together flour, baking soda and salt. Now fold the flour mixture into the banana mixture and stir until nearly incorporated.
Fold the nuts into the batter and pour into prepared pan. Next, slice the remaining ripe banana on the diagonal into 1/4" slices, and "shingle" along the edges of the pan, so the bananas line the edges of the batter. Sprinkle turbinado or granulated sugar over the batter and the banana slices.
Bake 55-75 minutes until a toothpick inserted in the center comes out clean. Mine took 65 minutes. Remove from the oven to a wire rack. As it cools it should separate from the sides of the pan a bit, making it easy to flip out of the pan after 10 minutes. Cool at least an hour prior to serving. Slice, and serve plain or with butter or cream cheese.
Bread keeps well wrapped in foil or plastic wrap for 3 days. Ok to refrigerate.