This lovely Apple Gingerbread Cake recipe is from the October 2016 Bon Appetit Magazine.  I used my new Mandoline to slice the apples as thin as possible.  If you think the thinly sliced apples are too fussy, or just do not want so much work, that's fine, too. Just slice the apples thinly or cut into 1/2″ cubes.
A pan with a removable bottom is optimal here. I used a 10″ cakepan with a removable bottom.  A Sprinform pan would work well, too, but if you don't have either, make sure you butter the bottom and the parchment exceptionally well.  This cake is a bit labor-intensive, so know that you can prepare it a day ahead and keep it tightly covered at room temperature. If it needs a bit of reviving after a day, just brush it with some warmed maple syrup or a bit of melted butter.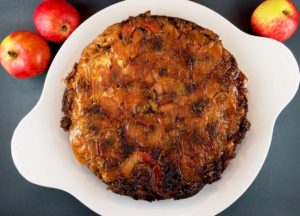 Ingredients
1

lb

Small apples (Lady, Braeburn or Granny Smith)

1

c

Light brown sugar, packed (divided)

3

tbsp.

Plus 1/2 cup unsalted butter, plus more for pan
For the batter:
2

c

AP flour

1 1/2

tsp.

Baking powder

1 1/2

tsp.

Kosher salt

1 1/2

tsp.

Cinnamon

1/2

tsp.

Ground nutmeg

1/2

tsp.

Ground cloves

1/2

c

Dark Molasses

1/2

c

Pure maple syrup

2

Large eggs, room temp

2

tbsp.

Peeled ginger, finely grated

1 1/2

tsp.

Baking soda

1/2

c

Heavy cream, plus more for serving
Instructions
Preheat oven to 350F. Prepare the baking pan. Butter the bottom of a 10" springform pan, or cake pan. Then, insert a round of parchment paper, followed by buttering the parchment very well. This will prevent the apples and caramel from sticking.
In a large skillet or sauté pan, over medium heat, add 1 T butter, 1/2 c brown sugar and 2 T water. Stir constantly until sugar dissolves into the butter and water. Swirling the pan regularly, continue to heat the mixture until large bubbles form but are slow to pop. This will take about 2 minutes. Pour the caramel into the prepared pan and tilt to coat the parchment evenly.
Next, prepare the apple slices. Core the unpeeled apples to remove seeds. Then slice as thinly as possible using a sharp knife or mandoline. Heat 1 T butter in the large sauté pan you just used. Add half of the apple slices and cook about 4 minutes until they are soft and seem almost translucent. Mine began to break up a bit, so I would recommend turning them gently with a rubber spatula when needed. Remove to a plate to cool. Then repeat with the remaining 1T butter and second half of the apples.
When the apples are cool enough to touch, begin to layer them in the prepared cake pan. Use the nicest (most intact) slices on the bottom, since this will be the top of the cake. After all of the apple slices are arranged in overlapping layers in the pan, set the pan aside while preparing the batter.
In a large bowl, whisk together the flour, baking powder, salt, cinnamon, cloves and nutmeg. Set aside.
Set a heatproof bowl over a pan of simmering water. Into it, put the molasses, maple syrup, remaining 1/2 c brown sugar, the 1/2 c butter. Stir constantly until mixture is smooth and butter is melted. Whisk in eggs and ginger. Add baking soda to 1/4 c very hot water, stir until dissolved, then add this mixture to the molasses mixture. Then whisk the finished molasses mixture into the reserved dry ingredients. Once they are combined, pour over the prepared pan with apples. Smooth the top, then drizzle the heavy cream evenly over the cake batter.
Bake the cake 35-45 minutes over a foil-lined sheet pan until cake is firm to the touch and an inserted toothpick comes out clean. (Mine took 40 mins). Remove cake pan to a wire rack and let cool 15 minutes. It should begin to separate from the sides of the pan while cooling. Next, invert cake carefully onto the wire rack (I put mine right on the serving plate), and slowly remove the parchment paper, making sure the apples do not stick to the paper.
Cool completely, and serve with remaining cream, whipped if desired.