This recipe for the Best Angel Food Cake is a bit of a combination of other great recipes.  I was inspired by the Best Angel Food Cake from Bon Appetit, as well as Martha Stewart's Angel Food Cake, which I've made several times.  I think this one represents the best of both – it has only 6 ingredients, and is so delicious you will want to just dive into it!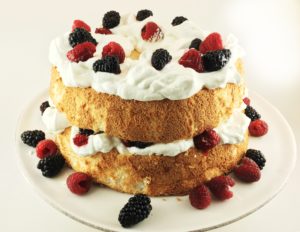 Special equipment needed:  a tube pan, or Angel Food Cake pan, ungreased.
Prep Time: 15m
Cook Time: 40m
Total Time: 55m
Ingredients
For the Cake:
12

Large egg whites, at ROOM TEMP

1 1/2

tsp.

Cream of Tartar

1

tsp.

Kosher Salt, or 1/2 tsp regular salt

1 1/4

c

Superfine sugar (Regular granulated is ok, too!)

1

c

Cake Flour, sifted

2

tsp.

Natural Vanilla Extract

1

tsp.

Raspberry Extract (OPTIONAL!)
For the Topping:
1

pt

Heavy cream, whipped

2

tbsp.

Confectioners' Sugar

1

pt

Fresh berries
Instructions
Preheat oven to 350F, or 340F for Convection. In a stand mixer, whip egg whites at medium-high, until foamy. Add the cream of tartar and the salt. Continue to whip until the whites have soft peaks. Slowly add the sugar and continue to whip until whites are glossy and have stiff peaks. This means that if you pull out the whipping tool, or insert a knife, the peak of meringue that comes with it will be stiff and pointy, and will remain that way no matter which direction you turn it.
Once peaks are stiff, add the vanilla extract and if you want, any additional flavoring (I used Raspberry extract here, but almond or lemon would also be delicious!) at low speed until incorporated.
Remove mixing bowl from stand mixer, and using a large silicon spatula, scrape meringue into a large, wide mixing bowl. Using your fine-mesh sieve or sifter that you used for the cake flour, sift 1/4 of the cake flour at a time into the meringue, folding gently with a large spatula until just incorporated.
Spoon gently into the tube pan. When the pan is half full, run a knife through the batter to encourage any air pockets to collapse, then continue spooning the batter into the pan. Run the knife once more through the batter to collapse air pockets. Bake 35-40 minutes until cake springs back when lightly touched.
Cool cake upside down by placing pan upside down on its feet, if it has them, or by inverting the pan and placing the tube part of the pan over a wine bottle and leaving it for an hour. This will prevent this ultralight cake from collapsing as it cools. After cooling, run a knife around the edge of the baked cake, loosen from the pan and release the cake from the bottom of the pan and from the tube with a knife. If serving the next day, wrap tightly in plastic wrap and keep at room temperature.
When ready to serve, decorate cake with berries and whipped cream or serve them on the side. Wrap and refrigerate any leftovers.