Or, So Much FLAVOR!
THIS is about the most flavorful, delicious chicken I have ever had! A real keeper! I found this recipe in David Lebovitz' My Paris Kitchen, a most excellent cookbook Teresa gave me for Christmas. I love David Lebovitz. I am a fan of his blog, http://www.davidlebovitz.com, which contains many wonderful recipes and interesting stories about his life in Paris. I even made another recipe of his a few months ago, Salted Butter Caramel-Chocolate Mousse, about the most perfect dessert imaginable. You must make both of these dishes. And, get this cookbook. I'm just getting started with it, you can be sure!
The flavors of this dish are some you might not think of combining: plenty, and I do mean, PLENTY, of Dijon mustard, thick cut bacon (ok, how could anything with bacon go wrong?), smoky paprika, and a touch of cream. De. Liscious. You will need some bread or noodles (or a spoon) to sop up the brilliant sauce. You can make it on the stovetop, all in one big pot. So dang good. I can't stop saying it. So! Dang! Good!
Now I don't know if it is better with the Dijon that is grainier, or smoother. I had the grainy type on hand, so used that. I might try it with the smoother type next time, just because I think it might look better. I can't imagine it would taste much different, it would just look less grainy and more saucy, if that makes any sense.
We served it with some pan-roasted potatoes and green beans and a crusty bread. Enjoy!
CHICKEN WITH MUSTARD
(Adapted from David Lebovitz' My Paris Kitchen)
Ingredients
4 chicken thighs and 4 chicken legs
1/2 c plus 3 T Dijon mustard
1/4 t smoked paprika
3/4 t salt
1/2 t freshly ground black pepper
4 oz. thick cut bacon, cut into 1/4″ squares
1 small onion, finely diced
1 t fresh thyme leaves
1 c white wine
1 T whole mustard seeds
3 T heavy cream
Chopped chives for garnish
Instructions
In a bowl, mix the 1/2 c Dijon, paprika, salt and pepper. Place the chicken pieces on top, then with your hands, rub mustard mixture over the chicken pieces, getting it between the flesh and skin as possible.
Heat a large, heavy pan such as an enamel-coated cast-iron skillet or Dutch oven, then add bacon pieces. The heat should be medium to medium-high. Cook until just brown. Remove to paper towel. Leave about 1 T bacon fat in the skillet, discarding the rest.
Add the diced onion, cooking until soft and beginning to become translucent. Add the thyme leaves, stir into onions. Cook 2 minutes, then place onion mixture into a bowl.
If the pan is dry, add a Tablespoon or two of olive oil. My pan had enough bacon fat and didn't need oil. Place chicken pieces skin-side down in pan, placing them far enough apart so they don't steam. Brown the chicken on both sides, adding oil in between if necessary.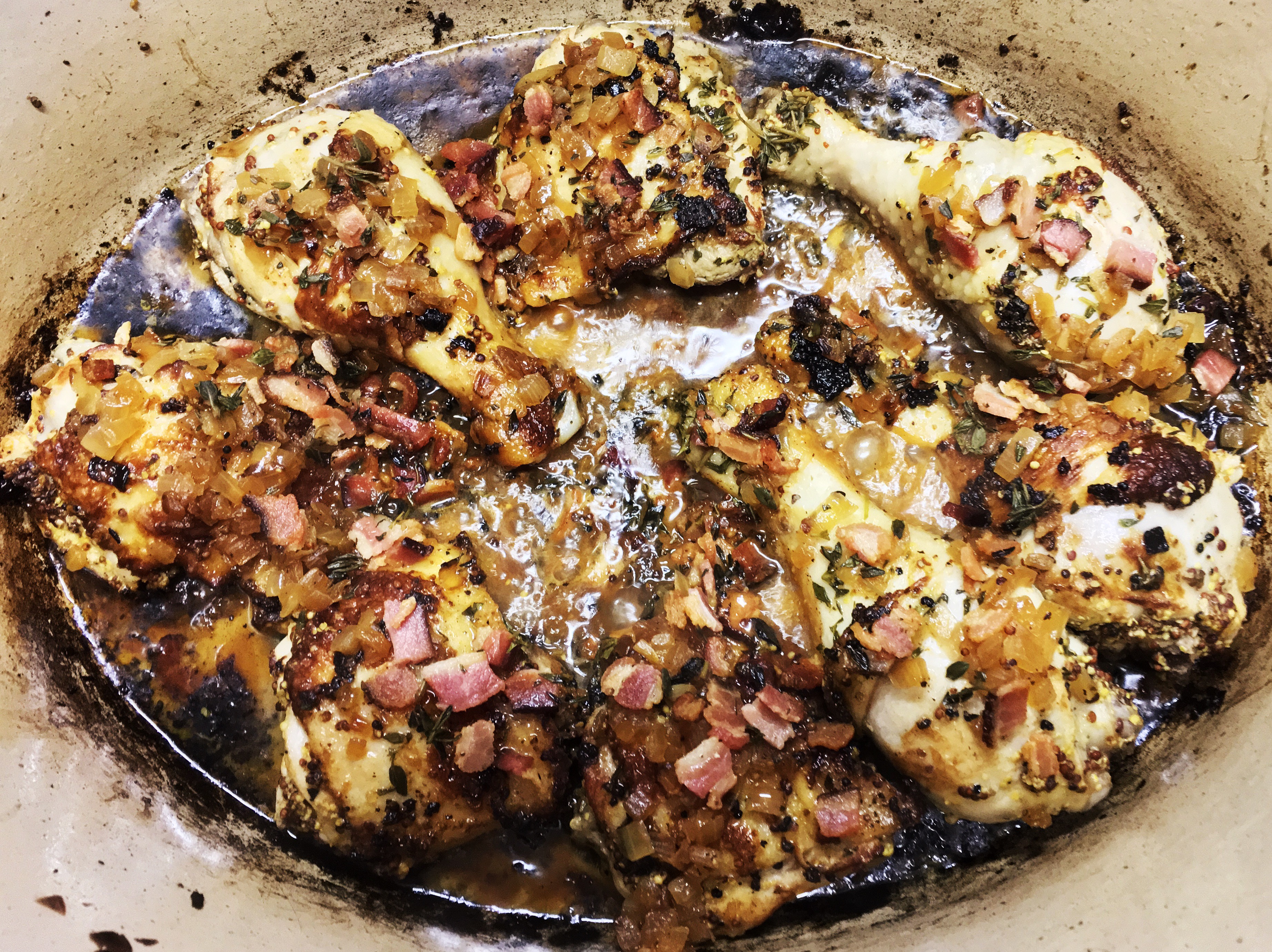 Remove browned chicken and place in bowl with onions. Deglaze the pan with the wine, scraping the browned bits (mine were dark browned) off the bottom of the pan. Add the chicken, onions and bacon back to the pan. Cover and simmer, 30 minutes on simmer setting, or 15 minutes on medium-low. Check for doneness by cutting into one of the pieces and making sure there is no pink or red next to the bone.
Remove the pan from heat. Add the 3T Dijon, the mustard seeds, and the cream. Stir, adding a bit of water or stock if it needs thinning. Garnish with chives. Serve. Enjoy!